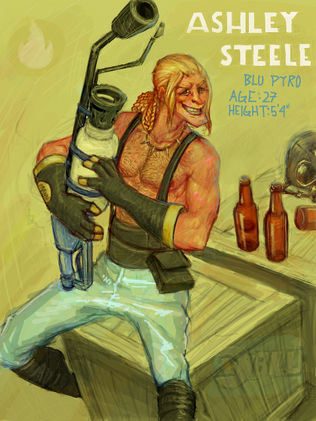 Meaning: Oh god what is that idiot doing now
Nicknames: Ash, Crazy Koala, Goddamn Idiot
Build: Short, stocky, and stupid.
Team: BLU? He forgets sometimes...
Stock Flamethrower
Shotgun
Homewrecker
Parents: Mann-CO engineers (Deceased)
Siblings: Mann-CO engineer
Offspring: Babi boy (Deceased)
Personality
Edit
BURNS THINGS AND GETS IN FIGHTS
Ashley was born and raised on a Mann-CO weapon development facility, where he cultivated an intense love for incredibly sophisticated technology that's sole purpose is murder. It was there that he learned to fight anything that moves/doesn't move, eat nails and radiation for breakfast, and grow mustaches at will (possibly from the aforementioned radiation).
Though surrounded by the most advanced tech on earth, Ashley proved to be a complete luddite. His ineptitude with machinery transcended the realm of incompetence; he had a gift. Even today, Ashley is the equivalent of a human sapper.
Despite all this, he had a pretty sweet life at Mann-CO. Had a job as a product tester. If technology could survive Ashley for even five minutes, it was ready to ship. And he was generally liked by the other Mann-CO employees, who deemed him appropriately manly, and found his luddite idiocy charming.
Until he broke respawn.
Then he joined Blu.
Strengths & Weaknesses
Edit
Strengths
Fearless
High stamina
Unpredictability
Ability to create chaos
Strangely high tolerance to radiation, particularly in food...
Weaknesses
Reckless
Dumb as a rock
A love of machinery that unabashedly approaches fetish territory.
Inability to use complex/simple technology (from toasters to, at times, even his own gun) without breaking it.
Relationships
Edit
Though generally very friendly, Ashley doesn't make deep connections with people too easy.
RED
Bonnie: Goodtimes blowing this lass and himself up with her own mines (Ashley was merely returning them to her...)
Dr. Tailor: One of Ashley's favorite drinking buddies, Ashley is always willing to share a Mann-CO Isotopic Lager with the good doctor.
Donna:

WHATA

WOMAN. Ashley has a major crush on the Heavy ever since she sucker punched him.
Nicolas: Sets a mean fire. They are pyrobros 4lyfe, regardless of being mortal enemies or whatnot.
BLU
Asher: Bossman what creeps.
Andy: One of the first Blus Ashley met, he warmed up to Andy quick when the guy showed he could take a punch. PyroBro 4lyfe.
Hahanah: Aussie DemoBro. Except a girl.
Kalina: Ashley sneaks into her shop to oggle the buildings a lot. And dies a lot. Worth it.
Orira: They met on the new recruit train. Gorgeous lady. Ashley wonders about her now and then.