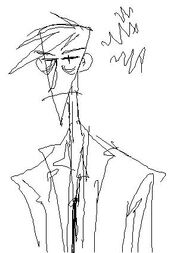 Meaning:
Langley: Old English/Old Norse 'lang' meaning 'long'.
Callahan: from Old Irish 'Ceallach', possibly 'bright-headed' or 'war, strife'.
Nicknames: Irish Giant, Lanky, Cally, Stretch 
Build: Jack Skellington with a triangle head.
Height: 197 cm / 6'5 feet
Team: Red
Job Class: Medic
Current Load-Out: Medigun and standard Syringe Gun w/ tranquilizers. No melee weapon.
Parents: A foster-father (deceased) and biological parents (disappointed).
Siblings: A sister who loves him very much. The exact sentiment is not reciprocated.
Personality
Edit
An arsehole.
A farmboy in County Monaghan. An accomplished heart surgeon willfully turned back-alley doctor in Dublin. A hobo in America. An apathetic, bitchy, and mildly useless medic at RED.
Strengths & Weaknesses
Edit
Strengths
Perceptive.
Not easily shocked.
Fast and endurant.
Quick learner.
Weaknesses
Zero people skills (has them, ignores them).
Might often have valid points, but they are (rightfully) ignored 'cos he's a mouthy prick.
Severely insomniac.
BLAH BLAH BLAH stop talking
EAT SOMETHING oh god
Relationships
Edit
RED

BLU
Same sort of assholes like his team, just with a different colour signature. Who cares.