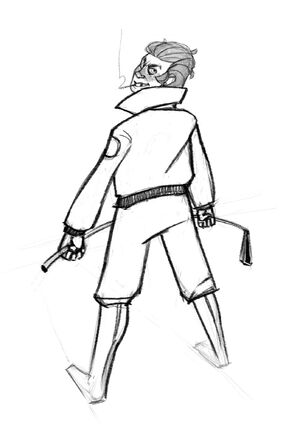 Player: maelgwyn
Name: Gladys [Redacted]
Status: Active
Nicknames: "Shrew" "Tart" (Durand) "Laddie" (Callahan)
Meaning:

Latin: small sword

Irish: princess

Welsh: lame

Gender: Female
Sexuality: questioning bisexual
Age: 27 (In 1971, born July 24th 1944)
Height: 5'5"
Weight: 140lbs
Nationality: American
Hometown: West Coast USA
Previous Occupation: Just odd jobs. She is essentially a career mercenary.

Team: RED
Job Class: Pyro
Weapons:

Standard Flamethrower

Standard Sawed-off Shotgun

Modified Long-handled Fireman's axe

Parents: Yes.
Siblings: A sister.
Theme Song: Playlist on Grooveshark

Personality
Edit
Emotional, physical & drug abuse has left her somewhere between lovingly clingy and unpredictably violent.
Favors the "burn & axe" method of combat when in an official mission setting, otherwise she enjoys hand-to-hand for the thrill of it.

Physical Description
Edit
Drug use and severe insomnia leaves her looking sickly and tired, despite having been off drugs for 6 years. Small but quite strong.

Standard Pyro uniform minus the grenades. Asbestos suit covers her tall boots to the ankle.
RED finagled her out of prison, put her through substance abuse rehab (a revolutionary idea at the time, pioneered by MANN Co), and gave her a job. As RED is the only family she knows, she is something akin to an army-brat. Lately she's been feeling trapped in the life she leads: too proud to leave without paying her debt, but ill-equipped to deal with normal everyday life outside of the various bases she's been stationed on.
Her love-life often results in sorrow when her lovers inevitably discover each other, and feel rightfully betrayed.

30 Days of Character Development tag on my tumblr
Strengths
Edit
Strong knowledge of hand-to-hand combat
Extremely loyal to her friends
At the heart of it, she really does just want to help

Weaknesses
Edit
Over-confidence in her abilities
Bad temper
Rushes into everything with minimal to no planning
Doesn't know when to say "no"

Coming Soon!

Relationships
Edit
RED

BLU
LaVon: One tough chick!

Taliba: Damn sneaky spies.

Andy: Her nemesis... and her lover. Things got right confusin' real fast. Recently Gladys has decided to exclusively date (and sleep with) him, which is a lot more difficult to do than she anticipated. She's 99% sure she loves him, he's said it and it took a long time before she could say it back, but she's glad she finally did.