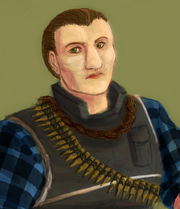 Meaning:
Nicole from the Greek name Nikolaos meaning > victory of the people
Taylor from tailor
Themesong/Playlist: Yet to come.
Sexuality:  Demisexual ( assumes self to be hetero tho)
Build: sturdy and tall. Can take quite a punch and deliver them.
Weight: 82 kg - 180.7 lbs
Current Load-Out:
Tomislav minigun
shotgun
woodworker axe
Parents: Father is still alive. Mother is deceased.
Siblings: 3 older brothers
Personality
Edit
Calm and reserved.
Not easy to anger. But when you do you better run.
A bit of a loner.
Not good with words
Comes from a woodworker family and had to do some of the work there as a teen so she is used to hard work.
Raised by her grandmother  who was part of the Suffragette's movement
Quit many jobs because of co-workers and bosses behavior. Or got fired because of speaking up for herself.
Tried enlisting for the army where it was the same case.
Eventually found herself now at BLU.
Strengths & Weaknesses
Edit
Strengths
physically strong
observes first than acts
hunting skills
not easily manipulated
Weaknesses
weak social skills
stubborn
not a fan of medics, especially if it involves having to get undressed in order to be treated
takes it too far in battle
maybe a bit too hesistant
Relationships
Edit
RED
BLU
Olga: She seems like quite the excited type. I hope we get along.
Oriria: I wonder if she is scared of me.
David: He reminds me of a bear cub.
Christian: He seems not okay. But I am in no position to ask.
Lloyd: Seems like quite the wit.
Robert: I wonder how long he has been in the business. Maybe he can share some wisdom with me.
Tessa: I should give them something as a thank you for the antlers.
Kalina: Please don't puke on my belongings.
Character's GalleryEdit
Ad blocker interference detected!
Wikia is a free-to-use site that makes money from advertising. We have a modified experience for viewers using ad blockers

Wikia is not accessible if you've made further modifications. Remove the custom ad blocker rule(s) and the page will load as expected.